WOLFGANG
Wolfgang
Wolfgang is on loan by his Owner, Debbie Mauldin. Thank you, Debbie!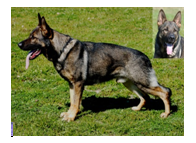 Wolfgang's Sire Balco
SG Balco vom Konigswolf
SchH3, FH1, KKL1, Hips OFA Good
Sire

V Melano vom Cap Arkona
LGA, SchH3
"a" normal
SZ: 2040652

V Nick vom Heiligenbosch
3X BSP, SchH3, FH1
"a" normal
SZ: 1911480
SG Half vom Ruhbachtal
SchH3, (G-BSP), FH
normal
SZ: 1773244
G Ina vom Haus Gard
SchH1
"a" normal
SZ: 1830399
Fenia vom Busecker Schloss
SchH3
normal
SZ: 1795477
V Hermes vom Busecker Schloss
SchH3
normal
SZ: 1587241
Anja vom Hasenkeller
SchH3
normal
SZ: 1626096
Dam

Aylin von den Musketieren
SchH3, FH
"a" normal
SZ: 2026000

SG Lao vom Rassestandard
SchH3, (SG-BSP), FH2
normal
SZ: 19046/1904619
SG Berry vom Neuen Lande
SchH3, FH, IP3
fast normal
SZ: 1745224
Innie vom Rassestandard
normal
SZ: 1795135
G Ayscha vom Bracheler See
SchH1
normal
SZ: 1925029
V Yoschy von der Dollenwiese
SchH3, BSP
normal
SZ: 1823741
Gesha von Machiavelli
SchH3
fast normal
SZ: 1778204
Link to Wolfgang's Dam, Magda Vom Wallerhorst
http://www.pedigreedatabase.com/german_shepherd_dog/dog.html?id=542510-magda-vom-wallerho
Sirius's Bentley
Bentley is a Kira/Wolfgang son. Just look at Kira's and Wolfgangs pedigree.
Bentley is awesome! He has a great personality. He is calm and sweet inside the house but very active and protective outside.